The Region
The area where the St Hubert limestone is extracted is also known for its famous ancestors. We are talking about dinosaurs that populated this area more than 175 millions year ago. Today, evidence of dinosaurs steps can be found in several places throughout this area, where quarrying explorations have been closed in order to give place to cultural and historical heritage sites with footprints of dinosaurs.
Located in the Serra D´Aires e Candeeiros Natural Park, the St Hubert limestone extraction area is nearby the medieval towns of Alcanede and Porto de Mos, called Pé da Pedreira.
Pé da Pedreira is a small village located at the hearth of Serra D´Aire e Candeeiros, also the place where the St Hubert quarries are located.
The Stone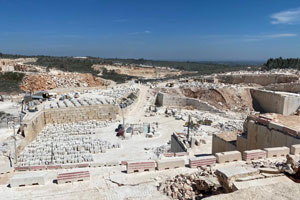 The St Hubert quarries are quite dynamic and with high output, having gained a considerable size in the last several years.
Large blocks are normally extracted and due to high demand, most of the production is normally sold.
The St Hubert is today a reference beige limestone in Portugal and a growing reference worldwide. It has appeared in the market as a close alternative to limestones such as Moleanos or Rosal, and has today gained a reputation of its own.
Overall Analysis
One of the most interesting aspects of the St Hubert has been its large availability and consistent beige color and look. The St Hubert is a preferential stone used in large scale projects, due to its uniformity, competitive price and beautiful look.
The St Hubert has appeared in the market as a close alternative to the Moleanos or Rosal, with a relatively close color and look and more competitive price. In addition, the St Hubert presents a technical report that is often better than its direct competitors. This is a beige limestone to consider in future projects.